We committed. We bought a second Citroen C6.
His name is Xavier, and he is truly a rescue. At least one of his previous owners was an idiot.
The guy we bought the car from owned it for less than a month. He was not really into this type of cars. We assume he hoped for a quick fix, but after a while, he realized: this is not a car you fix up and sell with a lot of profit. So he decided to lower the price and sell it, just to get rid of it.
We're happy with the purchase. But of course, this car's second name is "TROUBLE".
The general condition of the exterior is okay. It has a fairly big paint chip on the bonnet, regular scratches, and wear marks. Three of the rims are in very good condition. And the wheels are still okay. The doors all work as they should. The back windows are factory-tinted.
The mirrors fold, but the right side mirror doesn't adjust for the parking position. And neither can be adjusted too much using the buttons.
Xavier probably spent quite some time in the sun. The headlights are slightly yellow, and the door windows have a strange mark on the side. Not sure if this can be fixed in any way…
The boot lid opens well. And it has healthy struts. The number panel was permanently fixed to the boot lid. (Proof that at one time, it was owned by an idiot!).
But nothing we can't fix in time.
It has no service history. So we can safely assume this car went to various shops or garages when it had some problems. They fixed what they could… but no proper maintenance.
Engine runs well. We drove him 700+km — absolutely no issues.
It had 143.000km on board.
Checked with Lexia, it had a weak battery charge error and some other minor, insignificant faults.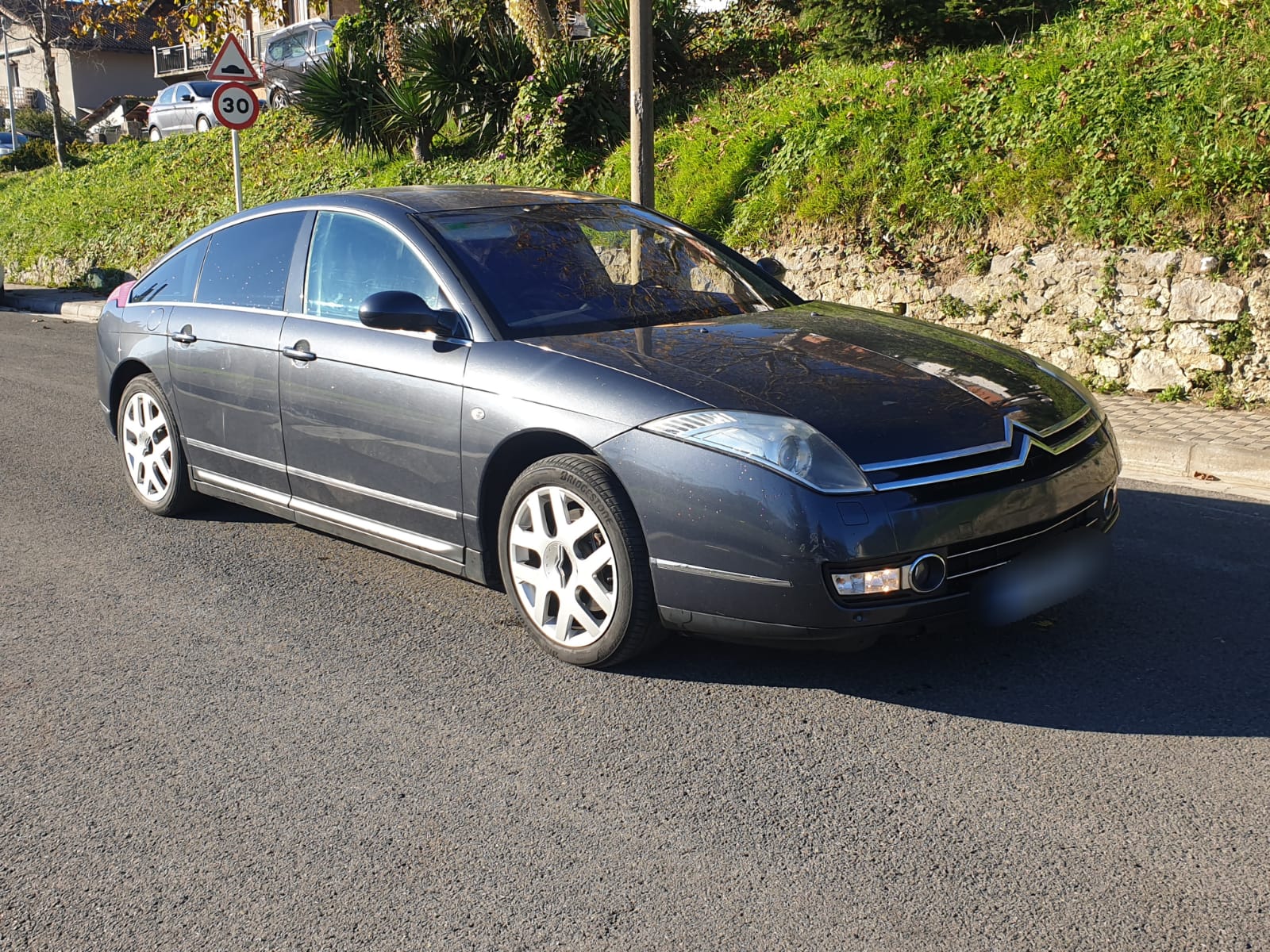 The bad parts:
The car was advertised as having issues with the gearbox/torque converter, but coming with a SH additional gearbox, with valve block and torque converter, but without warranty. Everything else should be okay. (Not everything is, but we didn't had too many expectations with this car.)
Issues with the car:
Smells bad. The idiot previous owner smoked in it. We will have a lot of trouble getting the smell out. As a former smoker, I absolutely hate this smell. Smell mostly went away with some help.
The hood has a big chip on it. Initially, we'll try to fix it at home – without expecting 100% result, just to "diminish" the big hole. We'll see how it works. The easier fix will be probably just get a new hood. 🙂 The solution to this is obviously to take it to a paint shop. Update 2023 the chip got much bigger.
The interior plastic is blue. Looks like crap, I mean the color… Update 2023: we will have to live with it LOL
The sound system was messed up, front speakers changed, and there are loose audio cables in the boot. Update 2023 – we bought a pair of SH front speakers.
The small door speakers had some stuff glued on We probably need to change the plastic or the speakers altogether.
The right side mirror doesn't moves when switching to reverse. The car has a built-in feature to turn the mirror downward, so you can see the edge of the road better.  Fixed
The reverse light is not working, probably a cut cable.
The boot is a mess. We'll need to buy a new cover for the spare wheel, because the gearbox was put on it without any protection (IDIIIOT), and the thin wood broke. Update (2023), the boot is still a mess.
Some of the white inserts on the inner columns are dirty and ugly. Luckily, we have a guy who can fix this. Right now this is the least of my problems.
There is no service history. We have NO idea what was changed and more importantly what was not.
What pissed me off: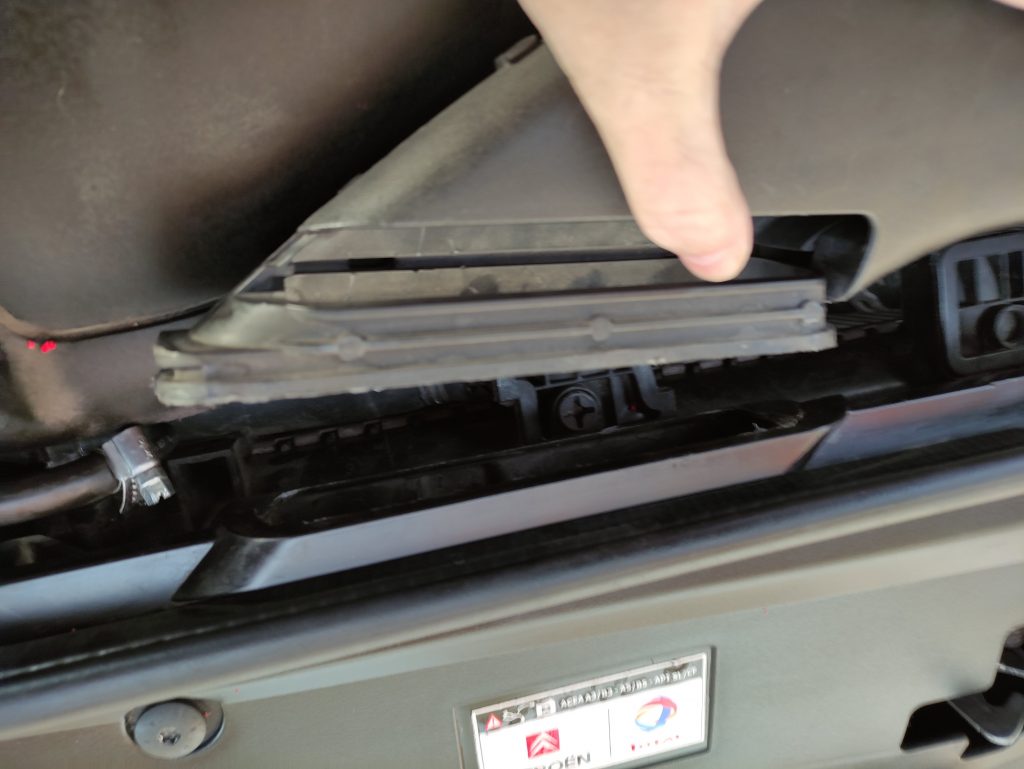 On the weekend, we cleaned up a bit, and when I looked in the engine bay, I saw this. :O
The air intake pipe was just hanging there. Loose.
What type of moron "service" person touched this car that a stupid plastic pipe is not put back how it should be?
It took me 2 minutes to find a screwdriver, unscrew the 3 screws, and put it back. And… I have pretty much zero knowledge in car fixing.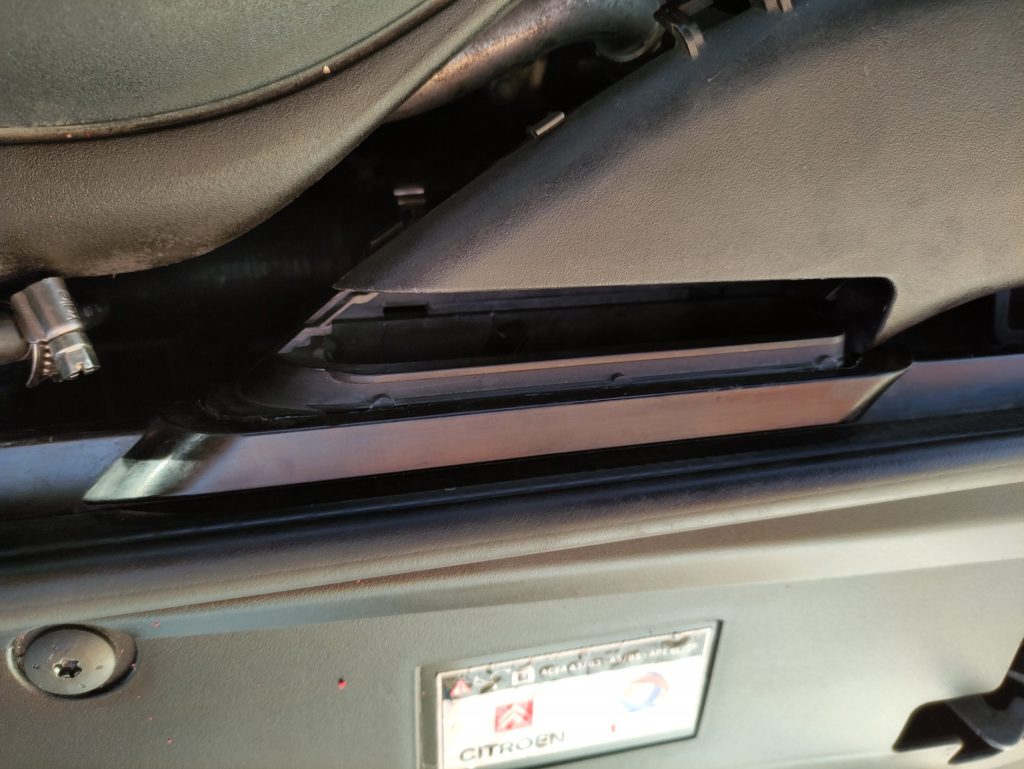 Anyway… when we bought this car, we took a risk. And our calculations were the following: the engine is hopefully still "young". Considering how bad reputations the C6 V6 2,7 engines have, having a "spare engine" is not a bad thing. But we also have spare doors, windows, boot, turbo, lamps, bumpers, you name it! One bonus was the same color (Fulminator).
Right now, the plan is to keep this car running, and in as good shape as possible. Considering that Maudette is in very good shape, with a full service record, and many maintenance jobs done in time, most likely, once Xavier is fixed, he'll be our main ride. He's clearly in worse shape than the other. So we will try to keep Maudette in the best possible shape to become an elegant healthy old lady.
Update 2023: the torque converter was fixed!